In an NFL Draft already garnering a reputation as one of the weirdest drafts in the history of the league, just four wide receivers were taken in the first round and only six in the top 50, an unusually low amount in a fairly solid class of pass-catchers.
Adding to the weirdness, all four of the receivers chosen in the first were in consecutive picks, with selections 20-23 all being wide-outs. Ohio State's Jaxon Smith-Njigba, TCU's Quentin Johnston, Boston College's Zay Flowers and USC's Jordan Addison, the first-round foursome, were all very different prospects that could contribute very different roles to the teams they were drafted by. Here is an early look at how the rookies could gel with their new teammates and what grade each choice deserves.
Jaxon Smith-Njigba, Ohio State→Seattle Seahawks
Easily the best receiver in the class, Smith-Njigba being taken later in the first round was one of the steals of the draft. There is not another wide-out with as good of footwork as the former Buckeye in this rookie class. Any time a receiver has a bowl game performance of 15 receptions for 347 yards and three touchdowns, it is apparent that they have absurd talent and potential. "JSN" will easily prove to be one of the best choices of the draft and I love how he fits in to take over the role of an aging Tyler Lockett in Seattle. Combining his quickness, agility and fluidity with the sheer athleticism of D.K. Metcalf is a scary sight for opposing defenses. 
Draft Grade: A+
Quentin Johnston, TCU→Los Angeles Chargers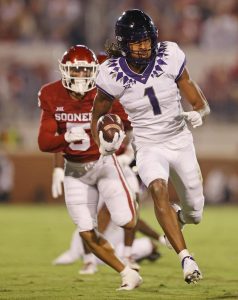 Though I was not very high on Johnston and ranked him as the WR4 in the class behind the aforementioned three, he is still a very capable player. His performance against Michigan was just the tip of the iceberg to what he can bring to a team when healthy. Despite being a taller and lankier wide-out, he has deceptively fast speed and is difficult to bring down in the open field. My biggest knocks on the former Horned Frog were his consistent body catches and lack of big plays despite being a taller deep threat specific player. I think that given the right environment he could improve to be a better receiver in the NFL, and L.A. is a fine place to go to do so. Learning from veteran Mike Williams, who very well utilizes his size, could be very beneficial for Johnston who possesses speed and shiftiness that Williams does not. Additionally, I would like to see the TCU product be more involved in blocking and take less plays off, which can easily be fixed. Overall, this is not a bad choice but I would like to see Johnston in a more profound role early on, which as of now looks to not be the case for a Chargers offense that already has the weapons of Keenan Allen, Austin Ekeler, Joshua Palmer and Williams.
Draft Grade: C+
Zay Flowers, Boston College→Baltimore Ravens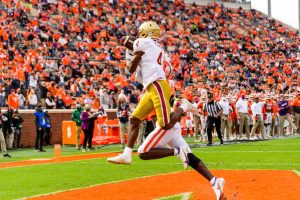 Flowers was my WR2 prior to the draft and I was pleasantly surprised to see him drafted in the first round because some general managers passed on him due to his smaller size of just 5 '10 " and 170 lbs. Though this comparison could seem absurd, I truly see Flowers, both in stature and play, as a young Antonio Brown. He has the insane speed and quickness that made Brown quickly appear on the NFL scene and plays way bigger than his size. Both players will make ridiculous catches seem easy and can burn nearly any corner back in the league. Seeing the BC-alumni matched up with fellow freshman Joey Porter Jr. twice a year will be very entertaining. For the Ravens, this is a phenomenal get to provide Lamar Jackson some assistance.
Draft Grade: A+ 
Jordan Addison, USC→Minnesota Vikings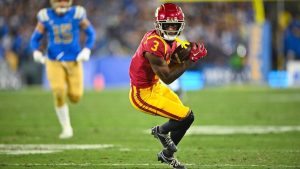 A recent arrival at USC after transferring from Pittsburgh, Addison was not nearly as impactful on the field as he was as a Panther, but still proved himself capable of being a first round talent. He has ample size and good hands, but more importantly is a sound route runner. Though not on the level of Smith-Njigba or a top NFL athlete, Addison has good footwork and can easily slice through gaps in defenses. He is a difficult cover while not being pressed as giving him any bit of room could allow for him to get the ball. With Adam Theilen's departure, Minnesota needed a young receiver to fill his shoes and they got the best one on the board with Addison. I think that Addison and the Vikings' Justin Jefferson have some very similar traits, so I would have been intrigued to have possibly seen a different wide-out drafted later that contrasts Jefferson more than Addison. 
Draft Grade: B