Everything you need to know about the Apple watch series 8
During the September 7th Apple Event, many exciting new products were unveiled, including the iPhone 14, which grabbed the most attention from the media. The new Apple watch, with its incredibly exciting updates, got somewhat lost in the shuffle. So, what's new with the Apple watch?
The new Apple watch is meant to be worn. It's swim proof, dust proof, and crack resistant, so it can last as long as possible. The new watch also keeps wearers safe with fall detection, emergency SOS, and medical ID. Your health is a huge priority to Apple, which explains the great fitness app on the Apple watch, sleep monitoring, and mindfulness. Crash detection, a new feature on the Apple watch, can detect a crash and notify emergency contact if you are not responding or if you confirm that you were in a car accident. The new Apple watch has updated its features for the health of women, which still utilizes its well-known security measures. "It is the ultimate device for a healthy life," says Deidre Caldbeck, the director of Apple Watch product marketing.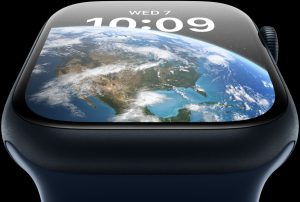 Even with all of these features, the Apple Watch still has all-day battery. Sometimes, however, this might not be enough. Low-power mode is a new feature that Apple has unveiled which allows the watch to disable unnecessary features such as being always on display, but still uses core features such as fall detection. This can allow users with up to 36 hours.
The new Apple Watch has four colors of 100% recycled material: midnight, starlight, silver, and PRODUCT(RED). In the stainless steel finish, colors silver, gold, and graphite are available. The bands have been updated for some of the popular Apple Watch bands.
The Apple Watch starts at $399 for a GPS plan and $499 for a GPS and cellular plan. To learn more about the watch or purchase one, click here.