Lauren Wahlers guides Lower Dauphin girls basketball to close win over Mechanicsburg
Despite a very low-scoring, defensive matchup with Mechanicsburg on Tuesday, December 20, senior captain Lauren Wahlers ensured that Lower Dauphin came out on top in a 26-19 affair.
Head coach Tim Goss explained how much of an impact Wahlers has on the program, stating, "you can depend on a player like her in pressure situations and then people do good things around her, as well. She makes everybody better and then they make her better, too." 
Not only did Wahlers account for ten of Lower Dauphin's 26 points in their victory, but she also corralled countless rebounds and is an extremely strong defensive presence. The star playmaker also gave a lot of credit to her teammates on the bench that motivate her throughout the game.
"The bench always has great energy. Our coach says, 'don't listen to the crowd or anything,' but, when you hear your teammates hyping you up, it's the best feeling in the world." 
Junior Cadyn Eismann is another consistent force for LD, dishing out numerous assists and registering a couple of steals in the win. Seniors Shannon Angerer and Lilli Knudsen also play big roles for the now 4-1 Falcons. 
Coach Goss stated, "as team captains, the three of them certainly make a difference in the course of a game to have that experience. We rely on them to lead the underclassmen and set an example,"  when describing the senior trifecta of Angerer, Knudsen and Wahlers.
Wahlers shared much of the same feeling of the importance of being a positive role model to her younger teammates.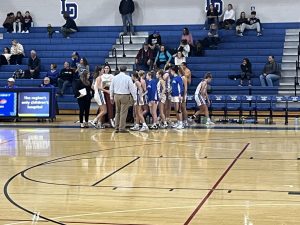 "I remember being a freshman and looking up to the upperclassmen and it means so much [to hear] positive words and reinforcement. Being a role model is just your attitude and actions and I hope to be a good influence on our underclassmen and keep the program going." 
Rebounding from a tough loss on Tuesday, December 13, the Falcons won back-to-back games and have improved to a 4-1 record on the season. While the latest two victories may have been very close thrillers, Lower Dauphin found ways to win as they seek revenge following a district semifinal loss a season ago.
"Last year's loss in the postseason was tough, especially in the semifinals in districts, we were going so far, but that just fuels us definitely. Some other teams could take that as defeat but that's motivating us girls and we're excited to make it as far and farther this season," said Wahlers.
Although close games had his heart racing, coach Goss is happy to pick up any win that the girls can get, especially with the lessons that close games can teach players.
"We hope it can only help us over time, but being in these pressure situations and coming out on top is always nice and we try to learn lessons from each one of them and try to improve. We don't always want them to be so close, but, when they are, we like to win them."