Weirdest shoes on the market
From high-heeled flippers to sneaker-flip-flop hybrids, shoe manufacturers have come up with some pretty wacky creations. First up is a peculiar version of a well-known shoe.
Crocs. They're extremely popular, especially the classic clogs. Usually solid colors such as white, black, blue, purple, or yellow are worn. But did you know that KFC paired with Crocs to create the chicken nugget croc? The shoes are made to look like a bucket of Kentucky Fried Chicken, and they even put fake chicken on top of the shoes as if that wasn't enough.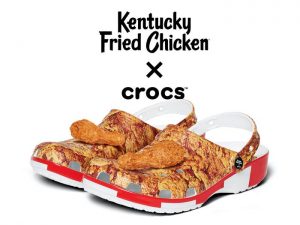 If you're planning to show up to a school dance right after you go scuba diving, you should try these high-heeled flippers. They're unpractical, will probably really hurt, and possibly dangerous, but come on, they're high-heeled flippers!
Music lovers currently donning a pair of Air Force Ones should consider switching to these MP3 player sneakers. They probably won't be very comfortable, but at least they'll be unique!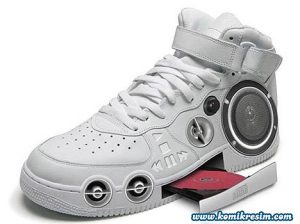 When the weather is hotter during the summer, it's natural to want to wear your favorite sandals. But how can you neglect your favorite sneakers? Converse made the flip flop sneakers so that you don't have to choose!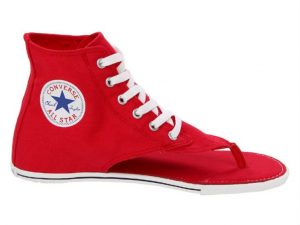 Don't you hate it when gum gets stuck to the bottom of your shoe? These shoes are great for a practical joke, but actually wearing them would be odd to say the least–not to mention the uncomfortableness of the heel.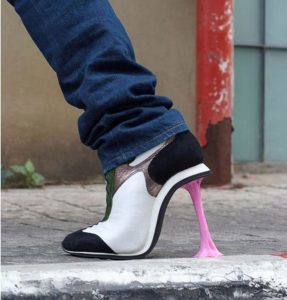 If you've ever thought that your shoes didn't have very good balance, you should try these. They're octopus shoes with tentacles wrapping around and under your foot. These would be extremely hard to walk in, and most people probably don't have any outfits that would match these shoes.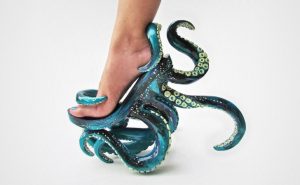 For many generations, children have been growing up with Elmo, Abby Cadabby, Cookie Monster, Oscar the Grouch, Bert, Ernie, Grover, and of course, Big Bird. As teenagers and adults, most former Sesame Street viewers probably haven't even thought of wearing Big Bird heels to an event. However, for those who have, they exist–and they look a lot more comfortable than the rest of the shoes on this list.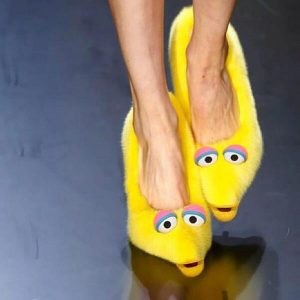 These shoes are bizarre to say the least. While some are simply unwearable, you could probably get at least a few uses out of some others. Would you wear any of these?
Leave a Comment