Davis Mills: The Future of Houston?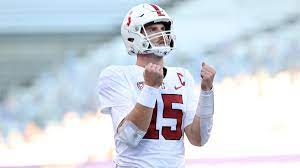 After trading nearly all of their draft capital in order to acquire offensive lineman Laremy Tunsil, the Houston Texans did not have a draft pick until the third round in 2021. With their first selection in said third round, the Texans selected QB Davis Mills from Stanford University.
Coming out of high school in 2017, Mills was a five-star recruit according to 247sports.com, and was ranked the 15th best prospect in the nation by 247sports.com. Rivals.com also had Mills as a five-star recruit and he was ranked as high as 10th in the nation according to Rivals.com. 
Despite being the number one quarterback recruit in the class of 2017, Mills had a lackluster career at Stanford including a total of just 22 touchdowns throughout his career at Stanford (18 passing, three rushing, one receiving) (Sports-Reference.com). 
Although Mills may not have been statistically great, he did help a struggling Stanford team go 4-2 in 2020, a large improvement from the teams' 4-12 season in 2019. While Mills did well in his few starts throughout those seasons, injuries have heavily limited his career and impact at the collegiate level. 
So, what does this mean for the Texans?
Well, with the Deshuan Watson allegations ongoing, Mills appears to be the current projected starter on the team. Even if Mills does not start, veteran Tyrod Taylor is not getting younger by any means and Mills could win the job in just a few seasons. Regardless, I see Mills as being the day one starter in Houston, simply for the talent and potential that he has. 
While his career at Stanford may have been underwhelming for the best quarterback in his high school graduation class of 2017, Mills does have elite potential and could showcase it in the unique opportunity he has been granted with the Houston Texans. Although it is a stretch from elite, the Texans have a solid supporting cast for Mills that can help him demonstrate his talent. 
Mills has great arm strength and is a great passer, with very solid vision. He isn't a very mobile quarterback, but can be a dual-threat when needed. 
With a tremendous amount of potential, Davis Mills could easily become a top quarterback in the NFL or just a career backup that is out of the league in just a few years. Only time will tell for Houston's newest addition in Davis Mills.