Joel Embiid named NBA's Most Valuable Player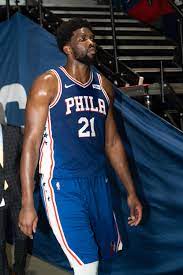 Philadelphia 76ers star Joel Embiid was named the NBA's Most Valuable Player (MVP) on May 2. Embiid previously finished second in voting the past two seasons. This was Embiid first MVP award.
This award was well deserved, as Embiid averaged a solid 33.1 points per game and ten rebounds per game. He shot an incredible 54% from the field on the season. On November 13, 2022 Embiid had his best game of the season scoring 59 points. Embiid scored over forty points twelve different times this season, he only played 66 out of 82 games this season.
Embiid led the 76ers to the third seed in the East. Embiid and the 76ers played the Brooklyn Nets in round one of the playoffs, sweeping them in four games. Embiid suffered a knee injury late in the third quarter of game three.
The 76ers are currently in round two where they are faced off against the Boston Celtics. The 76ers took game one without Embiid in a close one where they only won by four points. Game two, the MVP played but wasn't at 100%. He only played 27 minutes compared to his average of 34 minutes per game. The Celtics dominated the game winning 121-87. Embiid looks to do MVP type things in game three on May 5.