Artist Cami Barber plans to continue fine art painting at Penn State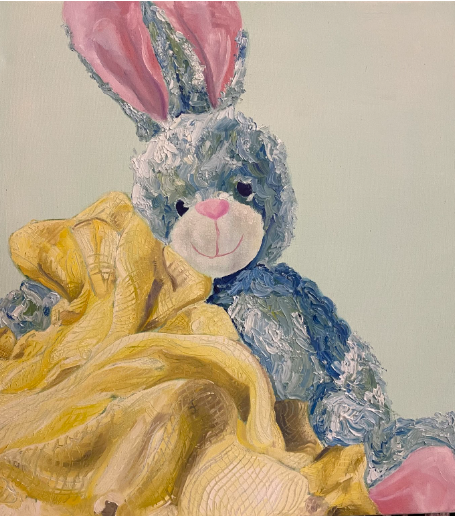 Senior Cami Barber's interest in art was sparked in middle school when she was invited to an adult art club by one of her family friends. This prompted her to take classes in high school before working her way up to becoming President of the National Art Honor Society.
Barber's specialty is painting landscapes with oil or acrylic paints, as she enjoys to blend and focus on textures like oceans and grass. When the painter first started out, she got her inspiration from nature, but she says "As I get further into my senior year it's more of my family I focus on." Not only does her family give her inspiration, but also her dog, Roxy. "It's my dog I paint the most, I have to stop myself from painting my dog too much." 
Although painting can be frustrating and time consuming, Barber finds that with oil paints, it is easy to fix mistakes by painting over them. The senior also describes how art is a very prominent piece in her life, and she makes connections through it with her family as well as other people of importance. Barber has been accepted into Penn State University Main Campus for fine art, pursuing a bachelor's degree and is working diligently on her portfolio.
The successful artist shared her viewpoint on any artist's role in society, stating that they have a lot of power over emotion, and inspire others. "Even in our class, from other art students we get a lot of inspiration. If someone makes a really happy painting we will tend to make another happy painting." 
To new artists starting out with no confidence, Barber gives this advice: "Everyone is bad at first. If you are good at first, then you should be worried. You should want to try different things and fail. I think a good teacher is important too, and being open and easy-going about things, not getting defensive." Barber describes that she was at that level at one point too when she started out. 
Mrs. Attivo, the artist's teacher, nominated her for this feature due to the fact that she stood out, being one of the few students who wants to pursue art in college. "Cami is extremely diligent, and motivated in the arts." Mrs. Attivo states, "She has been my go-to face painter if anything comes up, she's always there, and very dependable and reliable." Mrs. Attivo goes on to explain that Barber ran a 6-week after-school art program for middle school students. She put it together, the paperwork, the programming, and brought the kids over.