Lower Dauphin Signed Athletes: Brynn Shaffer, Michigan State Field Hockey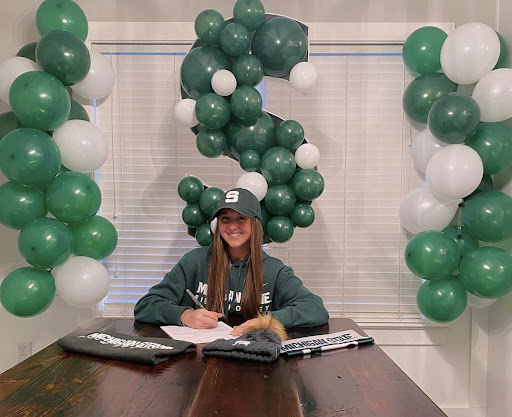 Brynn Shaffer, a Lower Dauphin field hockey senior and captain, has signed her national letter of intent to attend Michigan State University to further her athletic and academic careers.
Shaffer will be playing field hockey at the division one level with Michigan State, along with majoring in either education or dietetics. Shaffer is a captain for the Lower Dauphin field hockey team, but she also plays for Spooky Nook's club field hockey team. 
Shaffer is a midfielder and forward on the field, who finds herself to be good with her hands and overall an unselfish player. 
With Lower Dauphin, Shaffer was able to achieve three district titles throughout her high school career, along with a state championship title in 2022. Shaffer has been named 1st team all-state two years in a row, as she finds that to be her biggest personal achievement throughout her four years on the team.
Shaffer is one of four captains for the 2022 field hockey team at Lower Dauphin, and she finds the role to be "a good step going into college." Taking leadership and helping her teammates was "a good way to finish out my high school career."
Laurel Unger, an LDFH freshman, touched on Shaffer as a captain, saying "she's an awesome person and a great role model." Emily Miller, another LDFH freshman, also touched on Shaffer, noting "she knows how to run the team well."
When it comes to Shaffer's commitment process, she had a long list of schools on just the first day coaches were able to reach out to her for recruitment. Shaffer knew she wanted to play in the BIG 10, which made narrowing schools down a bit easier for her. Shaffer eventually narrowed down to her top three schools, those including Michigan State, Penn State and Indiana. 
Shaffer found Michigan State to be the college for her, as when she stepped on campus it "felt like home" and felt Michigan State "has a lot to offer." Shaffer feels that the coaches and players at Michigan State were very welcoming, and she feels the team will push her to be a better athlete.
Michigan State's field hockey team had a successful season this year. The team is moving up in rankings and bringing better players into the program. The coaches are doing a great job of getting the team to where it needs to be, and Shaffer thinks the team will see a lot of success in the next few years.