Signed Lower Dauphin Athletes: Bridget Lawn, William & Mary Field Hockey
As a sophomore, Lower Dauphin defender Bridget Lawn received little playing time, which would become a moment that shaped her field hockey career. 
"I just wasn't great. I did not get much playing time at all and I made the decision that I wanted to work hard and I wanted to play. My junior year I started, but it just came down to hard work. At the end of the day, your coaches can only do so much, and it takes you making the decision to do the stick work, work out, go for a run, push yourself. The ability to push yourself is something really hard, but if you can learn how to, it changes your athletic career. It can only start with you," Lawn stated. 
The now-senior's hard work would prove pivotal in not only her own success but helping guide the Falcons to back-to-back state championship appearances and ultimately winning this past fall. Claiming victory in her final high school game was a dream come true for Lawn, who explained the incredible experience of playing field hockey at LD.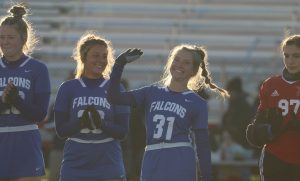 "It definitely was an honor. It felt very surreal. It was a very cool experience and just being able to say I play for LD. Really cool and definitely unique. The one word that really sticks out is unbelievable." 
Initially headed to Colgate University, Lawn flipped her commitment to the College of William & Mary, where she is signed to continue her athletic and academic careers. Club coach Jamie Pollock was a very influential figure in helping assist Lawn in the recruiting process. 
"[Pollock] actually went to William & Mary, so she helped me so much. She was like my biggest fan."
The W&M Tribe were the perfect fit for Lawn, providing her with a phenomenal education, including the highly-ranked Raymond A. Mason School of Business for her major in business, and a great field hockey program with what Lawn described as the perfect coach in Head Coach Tess Ellis. 
Lawn explained that she is most excited about, "a lot of different opportunities. [I am excited for] the chance to start fresh and be able to have all of these opportunities in front of me to grow as a person and be challenged. I love being challenged. I think it'll definitely be hard to adjust to being a collegiate athlete, but I am just excited for the challenge."