Lower Dauphin High School holds first pep rally in over a decade
After a 14 year hiatus, pep rallies are back at Lower Dauphin High School.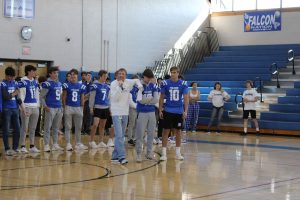 Principal Mr. Hanula and Athletic Director Mr. Kulina planned the historic event that took place today, Friday, October 21, during 10th and 11th period. Mr. Payonk hosted the pep rally and was an energetic figure to get the students excited for tonight's football game against arch-rival Hershey.
The event began with Payonk announcing and introducing each of the fall sports teams, the cast of the fall play, "Puffs" and announcing the Homecoming Court.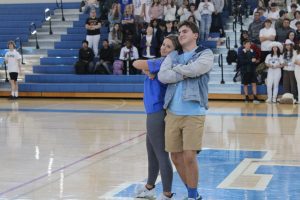 After the introductions, the cheerleaders and Flash the Falcon delivered a fun performance while the Big Blue Band from Falcon Land played music in the background with the Color Guard dancing along. 
Following those performances was the highlight of the event.
Three girls from the Homecoming Court, Nicole McCloskey, Andi Pagano and Rylan Helmer, battled Ms. Botiglia, Mrs. Etter and Mrs. Terek in a game of knockerball. Digby Althoff, Scott Felter and Aden Weigle represented the boys from the Homecoming Court and competed against Mr. Fackler, Mr. Gesford and Mr. Wuestner.
Set up in a small square, each knockerball participant stands inside an inflatable bubble, borrowed from SSG Nolen, LDHS' Army National Guard Recruiting Officer, with the objective of bumping each of the other team's players out of the square.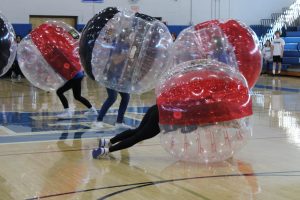 The teachers swept the students 2-0 in both contests.
After the conclusion of knockerball, Payonk, along with the help of the cheerleaders, got the students fired up for the Homecoming football game before the conclusion of the historical event.
Students from all grades enjoyed the event and it looks like the tradition will be back for good.