Filling in Gaps on 5 Wide Receiver Needy Teams
Philadelphia Eagles: Drake London and JuJu Smith-Schuster
If the Eagles elect to not take a receiver in the draft, then I could see them signing Allen Robinson or Chris Godwin in free agency. With that being said, the Eagles have three first round picks and can easily use one of them to fill in their lack of height on the outside. London brings a lot to the table, combining size with physicality. The Eagles lack a true one-on-one playmaker at receiver that can come down with anything thrown his way. London solves this. Bringing in Smith-Schuster in free agency would fill their gap at slot receiver, also, and would serve as a quick, cheap option to help give Jalen Hurts more weapons.
Houston Texans: David Bell
Houston lacks young talent at most positions with wide receiver being one of their biggest weaknesses. Aside from Brandin Cooks, the Texans have no superstars at the position and Nico Collins is not going to produce enough to make an impact. Bell isn't the most ideal player to fill in the gaps, but should offer solid value in the middle rounds of the draft. John Metchie III would offer much better value than Bell, but needing a tall and strong receiver opposite Cooks propels Bell on the Texans draft sheet. Justyn Ross is another tall, outside receiver with good hands to keep an eye on. 
Detroit Lions: Mike Williams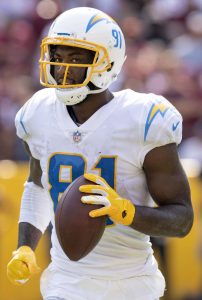 The Lions have bigger positions of need than receiver, but, much like the Texans, have such a vast amount of weaknesses that they will need to address the most important of them, one of which is talent on offense. Amon-Ra St. Brown performed exceptionally well in 2021 and getting a deep threat would help take Detroit's offense to the next level. Williams goes up for the football well, has good speed, good footwork and some of the better hands in the NFL. Getting a strong deep threat, along with St. Brown in the slot, will lead to major Detroit success in 2022. 
New Orleans Saints: Chris Olave
Olave has a lot of the tools to be successful in the NFL. As one begins more comfortable with Olave's game, the talent and potential inside of him becomes much more apparent. Olave has exceptional footwork, solid hands, and can run a good route tree. A team like New Orleans could use a lot more talent at the receiver position considering Michael Thomas' everlasting injuries. With the 18th pick in the first round, it is a must that New Orleans take Olave if he is available in order to bolster their receiving core, whether Olave plays from the slot or out wide.   
Cleveland Browns: John Metchie III
Jarvis Landry has recently had problems with his contract and, considering the possibility of Landry's departure in the near future, the Browns would only retain Donovan Peoples-Jones, Anthony Swartz and Demetric Felton Jr. at wide receiver (Spotrac.com). An upgrade is certainly needed and Metchie (based on my scouting) is the perfect fit. Metchie brings a burst of speed along with exceptional footwork and always performs in the clutch. The way Metchie carries himself reminds me of a very confident player that will become one of the elite receivers in this league. While taking a receiver at 13th overall is understandable, waiting for Metchie in the second or third could pay dividends for Cleveland to finally spawn success.