The year there was Prom during a Pandemic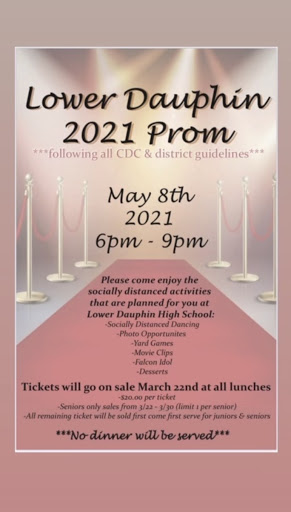 The Lower Dauphin High School Prom will be held on May 8th, 2020 from 6pm to 9pm. 
All CDC and district guidelines will be followed, therefore there will be no formal dinner this year. Socially distanced activities will take place such as, socially distanced dancing, photos, yard games, movie clips, falcon idol and desserts. 
Seniors will have the opportunity to buy tickets first and then they will be opened to juniors as a first come first serve basis. The tickets will go on sale Monday March 22nd, 2021 during school lunches. From March 22nd through March 30th the tickets will be sold to seniors only. After that the tickets will be opened up to all juniors and seniors. There is only one ticket per person.