Books For Women's History Month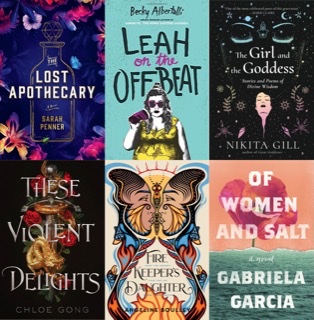 In celebration of Women's History Month, this is a curated list of books, both already out and soon to be released, with each one featuring strong and diverse female characters.
The Lost Apothecary by Sarah Penner
This debut novel tells two intertwining stories, one set in 1791, the other in modern-day London. The strange and secret apothecary doesn't sell medicine, but poison. It is to be used only to free women from oppressive men in their lives. In the present day, the mysterious shop is unearthed by a historian still reeling from the discovery of her husband's infidelity.
Leah on the Offbeat by Becky Albertalli
By the author of Simon vs. the Homo Sapiens agenda, this book features Leah Burke, a side character from her first novel. Albertalli, a former clinical psychologist, is able to write teenagers with an element of realism few adult authors are able to achieve. This book in particular is incredibly relatable and well-written.
The Girl and The Goddess by Nikita Gill
Through a beautiful collection of linked poems, Gill blends a coming-of-age story with an exploration of Hindu mythology. Her vivid and deeply personal writing is nearly impossible to read without becoming completely immersed in her narrative.
These Violent Delights by Chloe Gong
This fantasy retelling of Romeo and Juliet takes place in 1926 Shanghai. It features rival gangs, mysterious deaths, and a hidden monster. The incredibly imaginative concept is blended with Gong's flowery writing style, making a wonderfully-done novel in every way.
Firekeeper's Daughter by Angeline Boulley
Boulley masterfully blends scandal and corruption, life as a biracial teenager on a Native American reservation, and young romance. The book has been likened to the works of Angie Thomas and Tommy Orange. It will be released March 16th.
Of Women and Salt by Gabriela Garcia
In this brutally honest novel, Garcia tackles issues such as addiction, deportation, and family separation. It forces the parts of immigration policy and family that are too often pushed aside and ignored. The much anticipated book comes out March 30th.